Online
Instruction for speakers online
PRESENTATION
UPDATES
For technical reasons we had to change the way you connect to your Zoom room to give your talk.
You will receive a Zoom link invitation by email within 24 hours before your session starts. You will not join the session through the platform as shown during the training.
If you did not receive your Zoom link within the time frame stated above, please contact us by email at icmp2021@kuoni-congress.com (always check your spam folder).
You can still connect to the platform and enter in your session to access the Q&A panel (as shown in the training) however it is not a mandatory.
Once your presentation is finished you can either stay in the Zoom room with audio and camera switched off or connect to the platform with your credentials and watch the session from the attendee view. See the explanation below.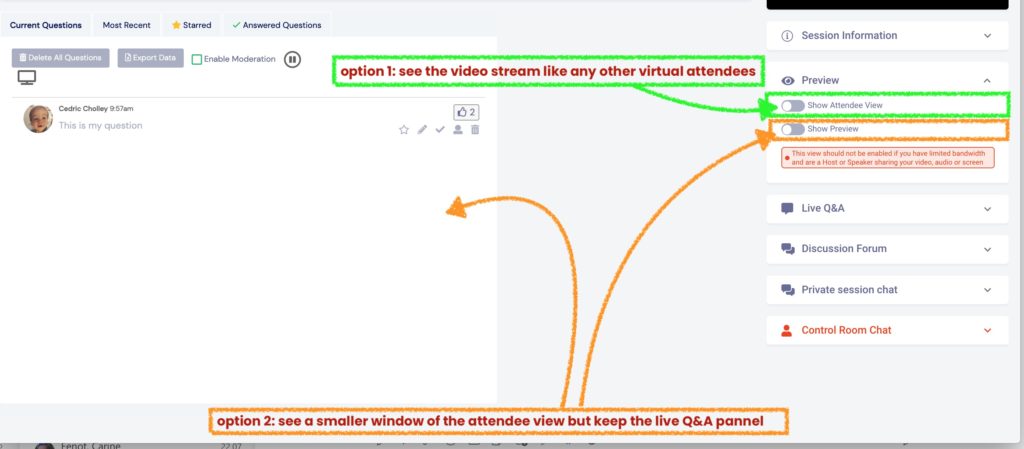 When preparing your talk, we kindly ask you to consider the time slot provided (including questions).
Session talks will run through the Zoom app embedded in our virtual platform called "OnAir". Sessions will be in real-time.
Connect 20 min in advance to the block of session your talk is related to in order to check your settings.

For example: If your talk is scheduled at 2:30PM but the session starts at 2:00PM, we kindly ask you to connect at 1:40PM for the technical checks.

1 Host will be connected on the Zoom and helping you with audio and video settings if needed. Host will also be the time keeper of the session.
Once you join you Zoom room, kindly wait your host to promote you as panelist
When your time comes, host or session chair will invite you to unmute and share your presentation.
The questions from on-site and online attendees will be managed by the session chair and asked to you verbally.
Once your presentation is finished you can stay in the Zoom room with camera and audio switched off.
You can download HERE, the recommended background for Zoom
When your time comes during the session, the session organizer will invite you to unmute and share your presentation as in a classic Zoom room.
Different roles have been defined to assist you during your talk. The Q&A will be monitored by the onsite session organizer who will ask you the questions orally.
PRO TIPS
for best use of the OnAir platform
Check our Introduction Video to OnAIR and its main features
For a better experience, we recommend using Google Chrome, Microsoft Edge or Opera browsers. The virtual platform will also work on recently updated browsers from Mac or PC such as Safari or Firefox but some features could be altered. The virtual platform does not work with Internet Explorer.
The virtual platform is designed for desktop and laptop computers, not for mobile.
Check your internet connection, bandwidth requirements – 2.0 Mbps up – 4.0 Mbps down for optimal use. You can test the speed of your internet connection here.
Some VPN, Firewalls or company restrictions might interfere with some platform functionalities. Make sure that you can switch them off if you face technical issues.
Anytime during the conference, you will be able to contact us via the live chat support.
You can run some tests from these 2 links below. It will scan your audio/video settings and will tell you if your device is compatible for audio/video streaming.
https://networktest.twilio.com/
https://tokbox.com/developer/tools/precall/
ICMP Virtual Zoom background to be downloaded here.
TRAINING SESSIONS
2 training sessions are organised for online presenters and support roles. Both training sessions will be the same so you only need to attend one of them.
The training sessions will last about 1 hour, including a pre-recorded video followed by a live Q&A. If you are unable to attend the training sessions you will be able to connect to the platform anytime and see the entire training in replay.
The training dates and times are as follows (CEST – Paris)
Tuesday 20 July – 11:00
Thursday 22 July – 17:00
On-site
Instruction for speakers on-site
PRESENTATION GUIDELINES
When preparing your talk, we kindly ask you to consider the time slot provided (including questions).
Slides should be formatted for '16:9' ratio within the 'Design' menu of Microsoft PowerPoint.
PDF are also accepted.
Graphics, tables and text should be of a sufficient size to be clearly visible at distance.
When choosing fonts for your presentation, please ensure that they are supported by Windows Microsoft Office.
Try to avoid complex slide transitions.
The laptops support most movie files (VLC, Windows media player) however, the most reliable are movie files with the .mp4 extension.
PowerPoint presentations created on Apple Macintosh computers must be saved and tested on a windows computer.
Format file (.ppt or .pptx or pptsx) and it is advisable to evaluate the presentation on a PC prior to attending the conference. A common problem in the reproduction under Windows is a failure to display figures for which 'drag-and-drop' was used to insert graphic-files into PowerPoint. Figures should instead be inserted using the menu-items 'insert/ photo / picture from file' (or similar). Copy-paste of figures from other applications also works well.
Saving Your Presentation:
When saving your presentation, please use the following naming format:
Room_ NN_Time_presentation title.pptx
NN' is the name or number of the session as it appears in the final programme.
(E.g. Plenary A_S1a_0900_xxxx.pptx)
TECHNICAL REQUIREMENTS
ICMP – CICG venue
Speaker Preview Room
On-site Presenters are requested to hand in their presentation at the speaker preview room the day before the talk is scheduled or at least 2 hours before the session starts. Speakers should bring their presentations saved onto a USB memory stick to the speaker preview room located on the first floor of CICG. Viewing your presentation in the speaker preview room will ensure that your presentation will be as fault-free as possible. The Speaker Preview technicians will check the presentation for compatibility and will upload it on to the Speaker Preview Network.
No presentation will be accepted directly in session room from a USB memory stick.
Opening hours of the Speaker preview room
Monday to Friday: 08:00 – 18:30 / Saturday 08:00 – 12:00
Audio visual and streaming Equipment
Presentation laptops will be provided in each room.
All rooms will be equipped with a camera to stream the speakers at the lectern.
If your presentation contains audio, please notify the technician in advance.
The PCs will be connected to the internet for eventual on-line access during presentations.
YRS – Sciences University venue
During the YRS symposium, presentations will be managed directly in each session room in the Sciences University. We kindly ask you to prepare a presentation in Powerpoint format or PDF and to drop it in the room at least 2 hours before your session starts. Our team will help you to check the format.
When your time comes, the session chair will invite you to the lectern where your presentation will be loaded.
The online attendees are only able to see you if you speak at the lectern however they can hear you anywhere in the room as long as you speak in the microphone.
The Q&A will be monitored by your session chair either online or on-site, all questions coming from online or onsite attendees will be asked loudly.


SPEAKER CONSENT : IMPORTANT
All presentations and sessions are being streamed and recorded and will be available on the virtual OnAir platform only, for one month after the conference. By giving your talk at ICMP 2021 virtual meeting you accept to be streamed and recorded.
We kindly ask to verify that you have agreed on the terms and conditions of the Speaker agreement